Meet Our Dentists
Dr. Raymond J. Tseng
DDS, PhD, FAAPD
Dr. "Ray" completed his Bachelors of Science (BS), Doctor of Dental Surgery (DDS), and Doctor of Philosophy (PhD) at the Ohio State University in Columbus, Ohio. He also completed a four-year residency/fellowship in pediatric dentistry and nutrition at the University of North Carolina Hospitals and School of Dentistry.
Dr. Mark Herring is a North Carolina native currently practicing at Children's Hospital of Philadelphia and University of Pennsylvania. Dr. Herring graduated from the East Carolina University School of Dental Medicine in 2017 and went to undergraduate at N.C. State University. He was born and raised in Wilmington, N.C. Dr. Herring enjoys working with patients from all walks of life, especially children with special healthcare needs and complex medical histories. He is fluent in Spanish, which he has used extensively in clinic in Philadelphia and while attending East Carolina University.
June comes to us from Fayetteville with over 10 years of working in general and pediatric dentistry and oral surgery. As an office leader, June is here to make sure that every experience meets our high standards and that parents have a point of contact for any concern or compliment they have for our practice. June enjoys spending time with her family and traveling in her spare time.
Marcia
Patient Relations Coordinator
Marcia was born and raised in Sanford, NC. She has worked in guest relations for more than ten years. In her free time, she enjoys camping at the lake and going to the beach with her husband and stepson. She is dedicated to helping parents have an outstanding experience every time they step through the door.
Cristal
Insurance Coordinator
Cristal was born and raised in Trujillo, Peru and has been living in the Raleigh area for the last 10 years. She is fluent in both English and Spanish and helps all of our patients to have an outstanding experience. In her spare time, she enjoys hiking, the beach, dancing, and performing Latin American dances.
Lindsey
Surgery Coordinator
Lindsey has worked in Pediatric Dentistry for over 8 years and has recently moved to the triangle. Lindsey provides concierge service for families at the NC Tongue Tie Center and also for any of our young guests who need general anesthesia. In her spare time, she enjoys traveling with her husband and son.
Alekz, RDH
Pediatric Dental Hygienist
Originally from Alabama, Alekz has worked in pediatric, general, and geriatric dentistry practices in both Savannah, GA and Fayetteville, NC. Alekz has plenty of experience working with kids and can brighten any child's experience with her winning smile. She enjoys spending time with her son and rooting for Auburn University during football season.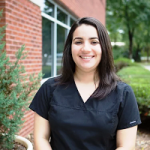 Ellie, DAII
Lead Pediatric Dental Assistant
Ellie has lived in the Raleigh area for several years. She is Cuban and is our resident Spanish-speaking dental assistant. She comes to us with several years of experience in pediatric dentistry and has a natural ability to make kids feel comfortable and at ease. Ellie has also accompanied Dr. Ray on a dental service trip to Nicaragua where she helped serve over 475 kids with dental needs. Ellie enjoys movies and traveling.
Payton, CDA
Pediatric Dental Assistant
Payton comes to us from Sanford, NC. After graduating from Central Carolina
Community College, she joined Dr. Ray at High House Pediatric Dentistry, and has
earned her designation as Certified Dental Assistant. Payton's calm and relaxed
demeanor helps her make friends with our guests easily, and allows her to make any situation easy for children.
Diana, CDA
Pediatric Dental Assistant
Diana was born and raised in Mexico City and moved to Clinton, NC in 2002. Diana has over 10 years of experience working in adult and pediatric dental practices. She loves what she does, and enjoys making visits fun and relaxing for kids when they come to visit for their dental cleanings. Her calm demeanor and great smile put children at ease instantly! Diana has two children and spends her free time with her family going to the movies, and spending time outdoors.
Lavina, DAII
Pediatric Dental Assistant
Lavina comes to us from New Mexico but has lived in NC for the past few years. With two kids of her own, Lavina has a natural way with children and has worked in Pediatric Dentistry since graduating with her dental assistant certification. She loves spending time with her family and going to the beach.
Krissy
Pediatric Dental Assistant
Krissy is originally from South Carolina but has been in NC for many years now. She has over 16 years of Dental Assisting experience from General Dentistry, Periodontics, Public Health and Pediatrics. Krissy loves working with kids and traveling to Honduras and Nicaragua for Dental Missions. Krissy is a wife and a mother of one daughter and one fur baby. When out of the office she loves to travel and spend much needed time with her family.
Dominee
Pediatric Dental Hygienist
Originally from Michigan, Dominee has extensive experience in working with individuals with special healthcare needs. In her 10 years of experience, Dominee has worked with children and adults and can put everyone at ease with her calm demeanor. In her spare time, she enjoys traveling.
Ready To Smile? Contact Us Today!